Cheap prom dresses being marketed as designer
Better Business Bureau warning prom-goers of online scams
Apr 09, 2014


BALTIMORE —The Better Business Bureau is warning consumers that scammers are targeting those going to the prom by trying to cash in on shoppers looking for deals on designer dresses.
The BBB described it as a bait-and-switch scam that preys on prom shoppers who, instead of getting a good deal on dresses online, wind up with cheap knockoffs that are falling apart and require expensive alterations.
Synchronicity Boutique owner Karen Mazer compared a girl in a designer prom dress to another girl in a similar knockoff for 11 News to show the difference between the two.
"There's no comparison. First of all, this isn't possible (shows dress not fitting one girl). They're both a size zero, and we couldn't close this if we wanted to," she said.
Mazer said she's seen a stream of shoppers this spring who ordered dresses at deep discounts online and were sorely disappointed when they received shoddy merchandise.
Read more: http://www.wbaltv.com/money/cheap-prom-dresses-being-marketed-as-designer/25392190#ixzz2ytcyWZLt
Counterfeit Testimonial:
"I... Bought a dress from Dh gate. It was totally awful. Handmade. Then I bought the original dress from Tj Formal in Joplin. Just waiting for it to come in. Super excited."
"The first is the counterfeit dress from dh gate. Then got the real one from TJ Formal. Thanks for saving my daughter's prom."
-Destiny S.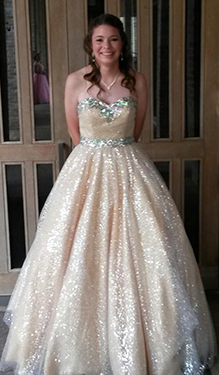 "The dress you see is probably this dress, and the dress you get is something else," said Roanna Rose, TJ Formal Owner.
Prom season is nearly upon us, but before you bargain hunt, make sure you know what you're buying.
"A lot of people think they are going to get a better deal, so they order online from one of these sites, and they find out it is a fake designer dress, not the real thing," said Rose.
TJ Formal Owner Roanna Rose says counterfeit sites often steal images off of American sites.
"They put them on their site and then they offer to make the dress for you for about 75% or 80% of the cost we would have to charge," said Rose.
The cost may be cheaper, but it's not the same quality as you buy in the store.
"The dresses were really flimsy. The fabric was just not very high quality," said Jackie Arwood, Country Cakes and Bridal Shoppe Owner.
Country Cakes and Bridal Shoppe Owner Jackie Arwood says in the past, customers have come in with counterfeit dresses.
"On these, there are the Swarvoski crystals. You don't get those on the other ones, you just get plain sequins," said Arwood.
So what are some signs the site you're on may be counterfeit?
"If it's in China, you know it's a counterfeit site. There are no legitimate companies over there selling directly to the American consumer," said Rose
Shopping around for different prices is also a good indicator.
"If you see a dress that you've seen on a legitimate website, such as TJ Formal.com our website, and you find that the price is much, much less, that is really the biggest red flag," said Rose.
The TJ Formal owner is also the Secretary of the American Bridal and Prom Industry Association and keeps a list of counterfeit dress websites. She says recently a district court judge granted a seizure notice allowing them to seize more than 1,100 domains of counterfeit sites.

ABC Entertainment News | ABC Business News
Knock-Off Wedding Gown Sites Get Sued
Industry leaders in bridal gowns sued sites that allegedly sell counterfeit dresses.
By Genevieve Shaw Brown
03/14/2014
Every year, more than 600,000 fake wedding dresses are bought online. Brides think they're getting the real deal for the big day, but what they're getting is a big fake.
It happened to Aiste Ray. In an ABC investigation in 2011, she said she found the $1,300 dress of her dreams — for $320. She thought she was buying an exact replica.
Big mistake.
Ray said she couldn't believe what came. "I mean, it was beaded in black and pearls, it made no sense. It looked like a high school project," she said.
But now the trade group representing the American Bridal and Prom Dress makers and retailers industry is fighting back. They're suing websites that allegedly sell fake dresses. And they just had a victory: A judge ordered more than 1,000 sites to knock it off, freezing their online payment accounts and closing their sites.
"The end game here is to get some federal recognition of the damage it's doing to our economy," said Steve Lang, president of the American Bridal and Prom Industry Association.
But it's not always easy to spot the fakes, as evidenced in this morning's "Good Morning America" segment. And bridal shop owners and dress makers say they're on the losing end of this cyber battle.
The takeaway for the bride-to-be? When it comes to the perfect dress, if it seems too good to be true, it probably is.
Update from the American Bridal & Prom Industry Association:
1100 Chinese counterfeit prom and bridal websites seized by the American Bridal and Prom Industry Association!
February 10, 2014 the ABPIA succeeded in obtaining a Court Order from the U.S. District Court for the District of New Jersey directing the registrars of the domains to disable them and to freeze any merchant accounts of the websites such as PayPal.
There are thousands more of these counterfeits websites selling prom and wedding gowns that will be coming down in the near future. If you place an order with one of these counterfeiters, you may not receive your dress or a refund if the website/company is one of those in the ABPIA lawsuit as they may go out of business.
Read on for more information.
Knockoff, No-Show Dresses Bought Online Dash Prom Dreams
Retailers warn of perils of shopping knockoff websites
Wednesday, May 8, 2013 - See the full article below!
TODAY News
Scammers Target Promgoers with Fake Designer Dresses
Jeff Rossen and Josh Davis
TODAY April 11, 2013
September 14, 2012
See the full article below.
ABC's Good Morning America recently did a report on knock off sites: Avoid Wedding Dress Blues
Before Ordering Your Prom or Bridal Gown Online:

You've searched hours, weeks or even months online scanning dozens of websites for your dream dress. Then you find a site with fantastic prices that beat the competition. The site features the same photos of dresses from designers that you recognize and respect. But the prices are half – or even less. Better yet, they offer to custom make your dress to fit your measurements instead of buying an off-the-rack size.

Sound too good to be true? Well, then it probably is! If you're tempted to order a dress online and the price is super cheap, think again. The Internet is recently flooded with hundreds of websites selling knock-offs dresses. Instead of getting an authentic designer dress at a ridiculously low price, what you risk getting is a cheap counterfeit version coming to you directly from a factory in China.
Delivery to your home can take up to 30 days or longer and might not reach you in time for your event… and that's if you even receive your order at all.
If you do get a dress from a knock-off site, it may or may not look like the picture on their website. Many times the Chinese factories behind the slick websites use the designers' copyrighted photos without permission. But the counterfeit sites lack the original patterns needed to sew the dresses. Instead, they try to duplicate them based on the photo taken by the original designer. As a result, a lot of guess work goes into the dress when it comes to construction, fabric and embellishments like beading.
Do you really want to leave your once-in-a-lifetime-event prom dress or wedding dress to chance?
Here's how to spot a website selling knock-offs or counterfeit dresses:
If designers are named on a website, find that designer's website. Then check the Store Locator for a list of retailers and etailers authorized to sell their dresses. If the website/store is not listed, then beware that they are not selling true designer gowns.
The Contact Us page should have a phone number and address listed (preferably within the US), not just an email, for customer service. If the site has aphone number or address in China, that's a red flag. It might be difficult to contact them about your order given the time difference and the language barrier.
If the website claims that you can return the dress for a full refund you can be fairly certain that this is a China website. In most cases, Authorized Retailers for these dresses cannot take returns unless the merchandise has a factory defect.
The websites requests more than a few of your body measurements. Professional dress and bridal shops in the USA typically rely on three to four keymeasurements as provided on size charts created by the designers.
If the models heads are cropped off in the photos, this could be an attempt to try to disguise copyrighted photos the counterfeit sites are using without the permission of the designers.
Check ShopFakes.com to see if it is a known counterfeit site. Get warnings about fraud and learn if they are an authorized retailer.
Before placing your order with one of these sites:
Do your homework before placing your order with one of these sites. Research their policies and check with online forums for reviews. Google a website's name and "complaints".
Do not plan on getting a refund or returning the unwanted dress back to the knock-off company as most are located in Asia and shipping is very expensive.
Email them and ask them to give you some reassurance they are an authentic retailer. They should be able to point to their website/store on a designer's store locator on the designer's website.
If you still think the price is worth the risk, order well in advance of the date you will wear the dress. You'll need extra time to shop in case the dress delivered to you is poorly made, doesn't fit or never arrives.
Very Important! You will not get an original designer dress unless you buy from an authorized dealer for the designer. These knock-off sites can duplicate the designer labels as well as the dress but the quality and style will not be exactly the same ... you'll get what you paid for or you may not get anything at all.
Buyer beware - especially for your life's special occasions!
Testimonials from customers who were disappointed by a knock-off site:
"I saw this jovani dress on the store and tried it, it was too big and too expensive for me, so found it on line which was a fake online and I did not know and ordered it, now I received it. it is 100% garbage and I am so disappointed."
"I am gutted I wasted money on the knock off site which... but also annoyed with myself for not doing proper research! I am just glad to have found the genuine dress and although I have paid double for it, I am really looking forward to receiving your dress and wearing it."
"One of my other bridesmaid got her dress through another vendor. However, when it arrived, it was a knock off and not literally a Bari Jay."
"I have noticed a lot of chinese websites posing as american sites and stealing the same pictures you have on your site! But making cheaper versions of the dress! I don't want to wait all that time and then when it arrives will not be as exactly like the picture shown. I ordered the same dress from a chinese website, thinking it was an american one!"
Knockoff, No-Show Dresses Bought Online Dash Prom Dreams
Retailers warn of perils of shopping knockoff websites
By Deanna Dewberry Wednesday, May 8, 2013
Some North Texas teenage girls ended up in tears this prom season because the dress they ordered online either never arrived or arrived looking like a cheap impostor of the designer dress they thought they ordered.
W.T. White High School senior Dashya McCuin has been dreaming about prom since she was a freshman, but the 17-year-old's dreams were dashed when the dress she ordered online never arrived.
She had her sights set on a baby blue, strapless high-low gown embellished with ruffles and sequins from a website called fabpartydress.com.
"She wanted that particular dress and, if you know my daughter, she has to have what she wants or she's not going to leave you alone," said Leslie McCuin, her mother.
Like many moms sending their princesses to prom, McCuin caved, allowing her daughter to buy her dress online. Dashya McCuin ordered it in March, weeks before her big day so that she'd get it in time. She even told the website her prom was two weeks before the actual date to make sure there was plenty of cushion.
But as prom inched closer, the dress was a no-show.
"It never came," McCuin said.
McCuin was heartbroken and empty-handed and the clock was ticking. To add insult to injury, McCuin got an email from fabpartydress.com in April that read, in broken English, "I am sorry the dress still not shipped yet, I am afraid the dress can't arrive you Saturday, maybe you can keep it for your next function?"
"I didn't think people would do that," said McCuin. "Like, proms and weddings are, like, so serious, so why would you play with people's emotions like that?"
The American Bridal and Prom Industry Association said plenty of companies are playing with young ladies' emotions. Two of the large local prom retailers, Terry Costa and Whatchamacallit, hear the same sad sob story time and time again.
"I'm tired of little girls coming through here at the last minute and they're almost in tears when they walk through the front door," said Tina Loyd, the CEO of Terry Costa, which has both a brick-and-mortar and an online store. "That's not what it's about."
Loyd said the problem has been prevalent for the past three years, and 2013 is no different. In fact, she orders more dresses at the end of the season for what she called those "last-minute horror stories."
ABPIA said more than 2,500 websites rip images of dresses off of legitimate designers' websites and use them on their own websites without permission. They lure girls in so they think they're buying designer dresses with a cheaper price tag. Instead, they sell knockoffs.
ABPIA's head and CEO of Mon Cheri, Steve Lang, told the NBC 5 Investigates Consumer Unit about 300,000 knockoffs came into the United States from abroad, costing the industry $120 million.
And families end up paying the price, when the online order goes south by never arriving or looking like a cheap imitation. The girls then have to go buy another dress and spend even more money.
The industry is so concerned about the issue that 12 major manufacturers filed a lawsuit aimed at shutting these websites down.
In Whatchamacallit's Dallas location, owner Gary Graham keeps a knockoff of a Sherri Hill dress next to the real deal as a cautionary tale of an online order gone wrong.
Sherri Hill is an A-list designer among teen girls heading to their big dance. The Sherri Hill hanging in Whatchamacallit's window is a turquoise short gown with elegant gold beading and fancy feathers. It retails for around $730. The imitation, bought online, cost about half, and is ice blue, looking more like an ice-skating costume gone wrong.
"Fake feathers versus real feathers; the stones aren't even correct. The color is way off. The design, the style, is completely off," Graham said.
White Settlement mother Teresa Davis can relate. Her daughter looked online for a dress to save money, and she found a beautiful sea-foam green dress with gorgeous beading on the bodice on a website called dreamprom.com. It's the exact same image of the same dress as on the website of the legitimate designer, Night Moves by Allure, so she ordered it, spending more than $200.
But what arrived was a dramatic departure from the dreamy dress. It was a baby-blue gown with plastic beading in a connect-the-dot pattern and a skirt made of a mesh material. It came in a 10-by-12 envelope postmarked from China.
"The dress didn't look anything like the one on the site; just a cheap knockoff," Davis said.
Davis sent numerous emails to the company complaining about the quality and asking for a refund. Via email, the company told her the dress was "beautiful" and that there could be a "5 percent difference" between the product pictured and the product she received. She did not get a refund and bought her daughter another dress, which cost $500.
"I still cannot believe we spent that much money," Davis said, adding that her daughter's grandmother chipped in as part of her graduation present.
The NBC 5 Investigates Consumer Unit reached out to dreamprom.com, based in Hong Kong, and fabpartydress.com, based in China. We never got a response from either company.
Neither the Davis family nor the McCuin family ever got a refund.
Experts advise when buying a prom dress online, call the company to ask if it's an authorized dealer. Look for the "Top Prom" logo on the website. It was created by the industry to help identify websites, which are authorized to sell designers.
And if the discount is too deep, it's a red flag.
"I wasn't going to miss prom, so I had to find a new dress," said McCuin, who finally settled on a bright pink high-low dress with golden beading that cost about $200 at Terry Costa. She paired it with matching jewelry and sparkling platform heels.
"It was fun. It was bright, so I was just like, 'This is it,'" she said. "When I saw myself in it, I really liked it."
"She kept saying, 'Say yes to the dress, mom. Say yes to the dress,'" her mother said. "It was yes to the dress because she's beautiful in it."
INSIDE EDITION Investigates Counterfeit Wedding Gowns
Airdate: 09/14/2012
It's the most important dress a woman will ever wear: her bridal gown!

Candace Burch of Salt Lake City, Utah, thought she had found her dream wedding dress when she fell in love with a designer gown by Justin Alexander. But, at $4,000, it was way out of her price range.
"It was my budget for my entire wedding," Burch told INSIDE EDITION.

That was, until she found the exact dress at an online wedding boutique, called Peridress.com.
"The dress was normally thousands of dollars, and here it was for me to order right then for $300," Burch said.

But, when the dress arrived in the mail, Burch was shocked!
"I pulled it out, and I was horrified," she said. "It wasn't the dress they showed in the picture [on Peridress.com]. It was the most hideous dress I have ever seen."

Instead of an actual designer dress, Burch received a poorly-made knock-off gown.
"It looks like I am wearing a white trash bag," she said as she tried on the gown for INSIDE EDITION's cameras.

The material of the counterfeit dress was thin and cheap. The beautiful, crystal embellishments on the designer's gown had been replaced with cheap sequins--like the kind used on Halloween costumes.

Even worse, it was only weeks away from Burch's wedding date!
"I was on the brink of canceling my entire wedding," she said.

INSIDE EDITION found Burch isn't alone. Hundreds of brides say they have been mislead by counterfeit wedding gown websites that not only copy the designs, but use the designer's own photographs to advertise their knockoffs.

We wanted to see for ourselves, so INSIDE EDITION's I-Squad ordered a beautiful, taffeta gown by wedding dress designer, Maggie Sottero. The gown is one of the most popular in the country and retails for around $1,200. But, at Eweddingdressshops.com, we paid only $477.00 - less than half the cost.

A month later, our wedding gown arrived. But, INSIDE EDITION's Lisa Guerrero discovered it did not come from the designer, it was shipped from China.

Guerrero inspected the gown, and found that the material felt cheap. "It feels like tissue paper," Guerrero said. The dress was also missing the designer's label.

In addition to the dress, we also received a shabby-looking veil. It looked like mosquito netting.

"That's just sad," Guerrero said, examining the veil.

How do our internet gowns compare? We put the real Maggie Sottero gown next to the dress we bought online, and asked Randy Fenoli, star of TLC's "Say Yes to the Dress" to take a look.

Fenoli said one of the biggest differences between our internet gown and the authentic dress was the length of the train, or the back of the dress.

"When you order [the real dress] from Maggie Sottero you're going to get a really dramatic, beautiful train," Fenoli said.

When compared to the real gown, the counterfeit Maggie Sottero's train looked significantly shorter, and less dramatic.

Also, the beading on the counterfeit gown looked nothing like the designer dress:

"[On the real Maggie Sottero gown] you're going to see glass crystals, little tiny miniature pearls, glass cut beads, and this is beautifully done," Fenoli said as he showed Guerrero the beading on the real designer gown.

"But, if you look [at the counterfeit gown], what you're going to see is a lot of big, plastic silver sequins," said Fenoli.
They were just like the sequins on the counterfeit dress Burch received.
"I would be horrified to see someone walking down the aisle, let alone myself, in this [counterfeit dress]," Burch said.

Fortunately for her, a local bridal store in Salt Lake City, The Perfect Dress heard about Burch's story and offered to give her credit in their shop towards a new gown. As if that wasn't enough, Burch's friends also pitched in money towards her new dress.

"All my friends rallied together and said we will buy your dress, any dress in the store," she said.

On her wedding day, Burch said she felt like every bride should: beautiful.

HOW TO AVOID BUYING A COUNTERFEIT WEDDING GOWN
Tips from the owners of The Perfect Dress, Salt Lake City, UT

• Bridal gown manufacturers do not sell their gowns online. They only sell their dresses through authorized retailers.

• Just because a website uses a designer's own photos, doesn't mean you'll be getting the real thing.

• A counterfeit bridal website often asks for a lot of measurements, many more than any manufacturer or legitimate bridal store will ever need. That is an indication that the website is creating the dress from scratch, and is not working with the real designer.

• If the an online bridal store's hours are strange, such as they want you to only contact them at 1am or 2am in the morning, that is something to be concerned about.

• If you are looking online to purchase a gown because you think it will save you money, try talking with a bridal consultant at a shop instead. They work with manufacturers and can help you find a gown within your budget.